Heaven's Defenders is a new series that will start on New Years Day!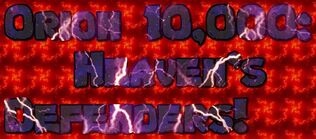 Plot:
Orion is back in 12 amazing adventures. Now armed with the Ultimate Omnitrix X12, a device based off the buckle/transformation device from Kamen Rider Decade. With new aliens, new surprises, & new action, Orion's life will never be the same.
Characters:
Orion Tennyson
Mindstorm (Returns in Episode 1!)
Orion's Mom
Jeanette
Sabrina
Steve
Tim
Brenda
Bryan
Delora
Brayden
Victor
Victor's Sister
Tyler
Alex
Sara
Joe Beth
Edd (Debut)
Blake
Charles
... More Coming Soon!
Heaven's Defenders Episodes:
Episode 2: Unite & Strike! (February 1st, 2019) (Debut of The Fusion Aliens & Orion's permanent Ultimate Form) (Debut of preview alien Blitz Gal)
Episode 3: Bring On The Changes (March 1st, 2019)
Episode 4: Happy Birthday To The Hero! (April 1st, 2019) (NO JOKE!)
Episode 5: Thanks For Serving Our Country (May 1st, 2019)
Episode 6: Power Of The Sun (June 1st, 2019)
Episode 7: Happy Birthday America! (July 1st, 2019)
Episode 8: Heat Of The Summer (August 1st, 2019)
Episode 9: Bye Summer, Hello Fall (September 1st, 2019)
Episode 10: Respect The Galactic Monsters (October 1st, 2019)
Episode 11: There's Something To Be Thankful For (November 1st, 2019)
Episode 12: The Magic Of The Season (December 1st, 2019)
Aliens:
All OS, AF,UA, OV, & Ben 10 Reboot Aliens.
Sonicstream (Renamed from Slipstream due Hasbro owning the name by Trademark)
Centron
Iron Head
Bullhorn (replaces Demonfire from now on) (Demonfire is NO longer in Orion's alien database)
Flashpoint
Maximus Kong
Steeljaw with SaBad
Rocks
Squidstrictor
Wolftrizer
Chieffish
Electrovolt
Biohazard
Blocker
Shellhead
Atomix
Atomic-X
Forestquake
Coggman
Legion X
Bullcrusher
Critterspike
Hardstrike
Arm-Strong
Flamefighter
Buzzlerbee
Brack
XLAGizer
Scanzone
Pack-Rat
Hyperspace
Electrotrode
Cyberbull
PowerBuilder
Shockdriver
Intersector
Crash Basher
Chat-A-Tell
Muttman
Bouncy Ball
Legendary King
Clawboom
Insectoron
Assassson
Gravakill
Titanlord
Shutdown
Electrozapper
Magnacore
Starbreaker
Galactic Star
Stampy
Bugbomb
Iron Tech
Cinderblock
Clock Cat
Cyberflame
Apeface
Octopunch
Electrostorm
Battleship
Flame Dragon
Drillbit
Acid Cycle
Armordillo
Attackroach
Cybertech
Gutcruncher
Greenster (BenMonster)
Firebird
Freezebolt
Gasket
Green Needle
Power Fire
Jetstream
Longrack
Katattack
Krok
Cryptostone
Magnatude
Magicstar
Muscle Man
Outbreak
Polar Claw
Putty
Portaler
Roadhog
Rockhard
Overkill
Sandbox
Shell Shocker
Snakepit
Snowcat
Stink Bomb
Teleportal
10-10
Timelapse
Volture
Bashbreaker
Terrorkill
Fearcrow
Pumpkaboom
Death Claw
Walking Dread
Heaven's Defender Aliens!:
Virusstorm
Whiplash
Samuron
Stormsaber
Crocbite
Sonicblast
Roboworks
Pyro
Ninjaslash
Snow Panther
Knightstorm
Pom-Ball
Robo Roboto
Smokey
Protectomutt
Toxiblast
Shinin' Star
Halloforcer
Two Creepy
Night Bug
Electron
Longhorn
Slapback
Darkmoth
Two-Creepy
Snarebolt
Bugbag
Joker
Skelehunter
Mossman
Snottrocket
Symbolt
Mindwipe
Rayburst
Thunder Rocket
Blitz Gal (Preview Alien for 2020's The Final Extinction)
... More Coming Soon!
Notes:
Coming in January of 2020, a new decade means a new trilogy. A new series has been Revealed as: The Final Extinction! It promises to be a very serious show. Dealing with Religion of Christianity & focuses on Revelation,

the final book in the Bible. In this show, Orion must unlock the secrets of this book and reveal its contents while using his faith in Jesus Christ to warn others that He is coming much more sooner than anyone thought. It will contain 20 new aliens that feature a apocalyptic look to them.